---
Product Info
The new STC | Pro ® pots are designed with an original shape and specific sizing. This unique patent pending construction creates ideal natural turbulence without increasing brew agitation leading to a more even extraction. Manufactured from hand hammered 1.5 mm thick copper ensure a durable product with ideal heat control during brewing. The ergonomic handle allows for ease of pouring and balance. Designed to accommodate most common cup sizes for Cezve / Ibrik / Turkish coffee, the double spouts accommodate right or left handed pouring.
The new STC | Pro ® provides a unique curvy, ergonomically designed handle for ease and comfort during pouring with a spout on both sides of the pot for right or left handed pouring. The handle is designed and manufactured from a special alloy to prevent over heating.
The new STC | Pro ® pot has an enhanced shape. The patent pending dome shaped bottom increases the gentle internal turbulence during brewing, eliminating the need for external agitation. The narrowed neck enhances foam production without the need to boil the slurry. These enhancements prevent over extraction during brewing.
The double spout is unique to the STC | Pro ®. Having a spout on both sides of the pot allows for those who are left handed to pour as easily as those who as right handed. In the coffee shop environment this also allows a barista to pour two cups simultaneously.
STC | Pro ® 2 is designed for two cups.
General Rules for care and use of your STC I Pro ® Turkish Coffee Pot / Cezve / Ibrik:
Wash with warm soapy water and dry after each use taking special care to be sure no grounds stay in the pot.
With normal use the outer surfaces may become tarnished, use a metal polish to restore the copper to its original luster.
Details

designed in NEW ORLEANS, handcrafted in TURKEY by STC
Volume: 240 ml
Material: massive copper, inside silver plated
Weight: 320 g
Dimensions: 8 cm × 26 cm × 14 cm
Preparation filter coffee

There are many different recipes that lead to an excellent cup of coffee, the following example should serve as a basic recipe and can be changed and adapted according to your wishes and willingness to experiment. With this recipe you will brew about 270 ml of coffee, that is one cup, or two cups.

Here is a small guide:

| | | |
| --- | --- | --- |
| | V60 | CHEMEX |
| Water temperature | 90 – 96 °C | 90 – 96 °C |
| Brewing ratio | 1:15 | 1:15 |
| Dose | 18 g | 18 g |
| Amount of water | 300 g | 300 g |
| Grind | Medium 20 – 30 Clicks on the Comandante | Medium-coarse 24 – 35 Clicks on the Comandante |

Step by step

Step 1 Preparation:

Grind 18 g of coffee
Rinse the filter paper to get rid of papery flavor and preheat the brewer.

Step 2 Blooming:

Pour in 18 g of coffee.
Start timer.
With approx. 40 g water, wet all coffee evenly and quickly.

Blooming prepares the coffee for the coming extraction.

Step 3 Intervals:

Use slow circular motions going inward and back outward in spirals for each pour

00:30 min to 120 g
00:50 min to 180 g
01:15 min to 240 g
01:40 min to 300 g

Finally, wait until the coffee has finished brewing and enjoy!
Choose options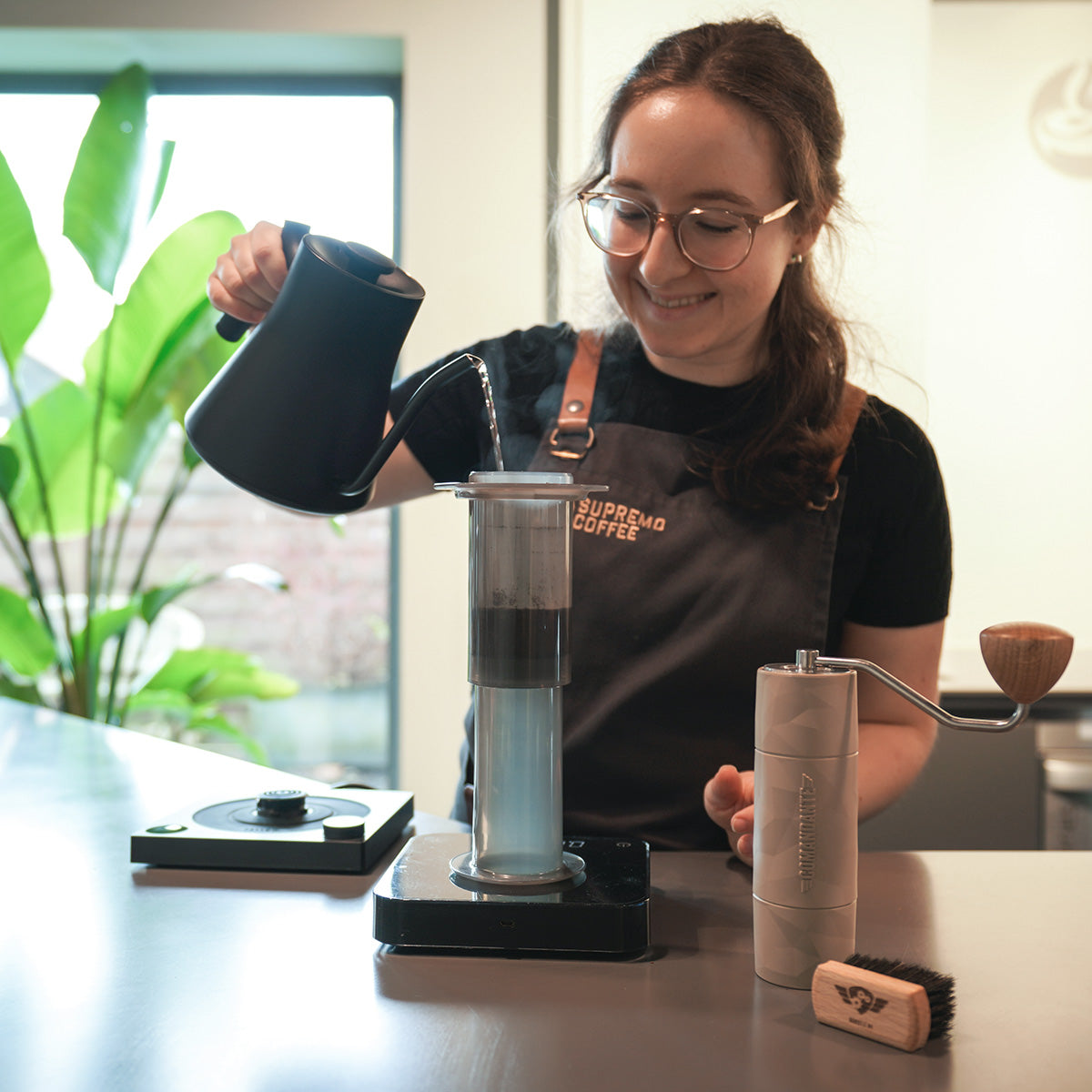 A Perfect Match
Take a look at our filter coffees. Everything is there, from chocolaty-nutty to berrylike-sweet.
Browse our coffee offering
Get the best out of your coffee