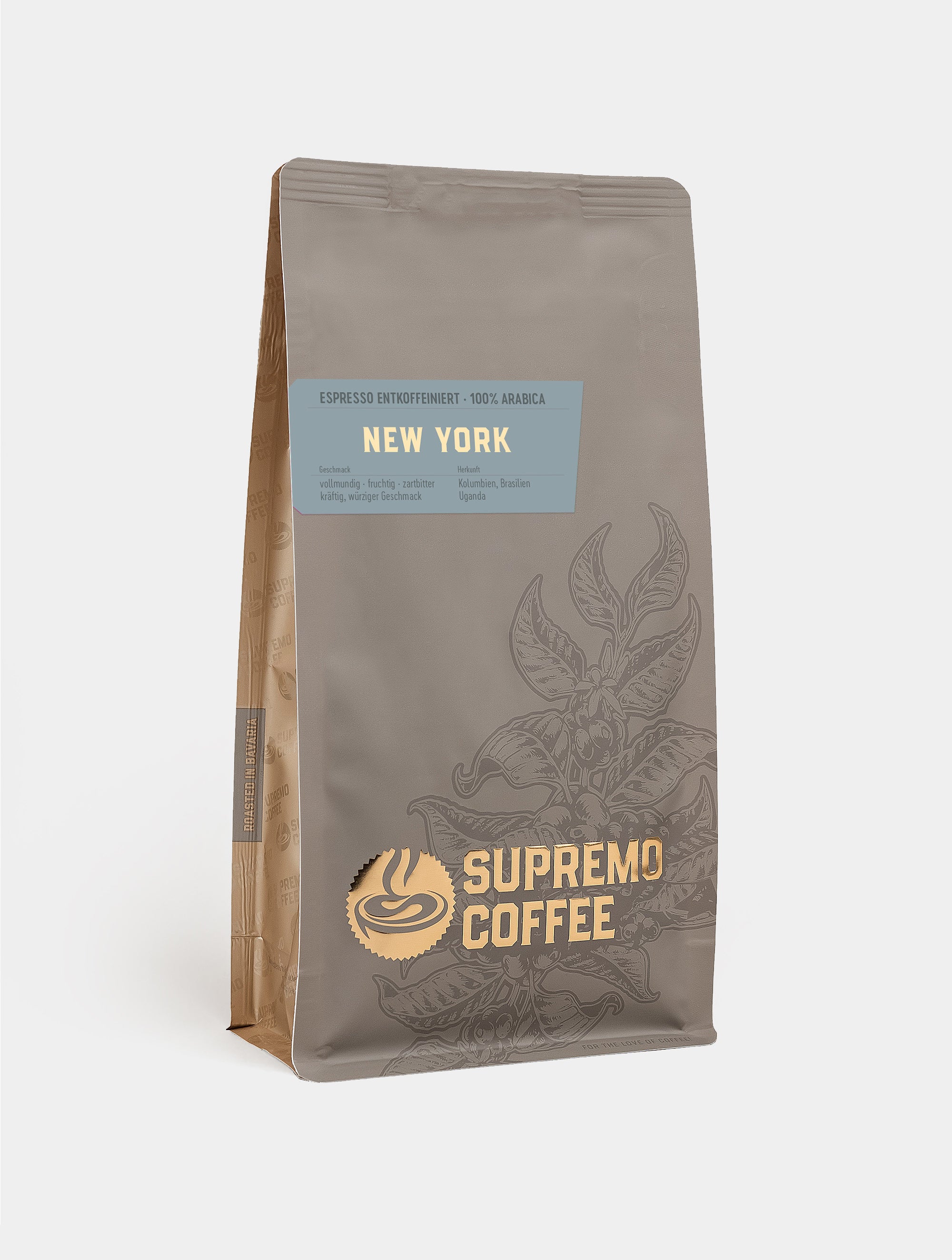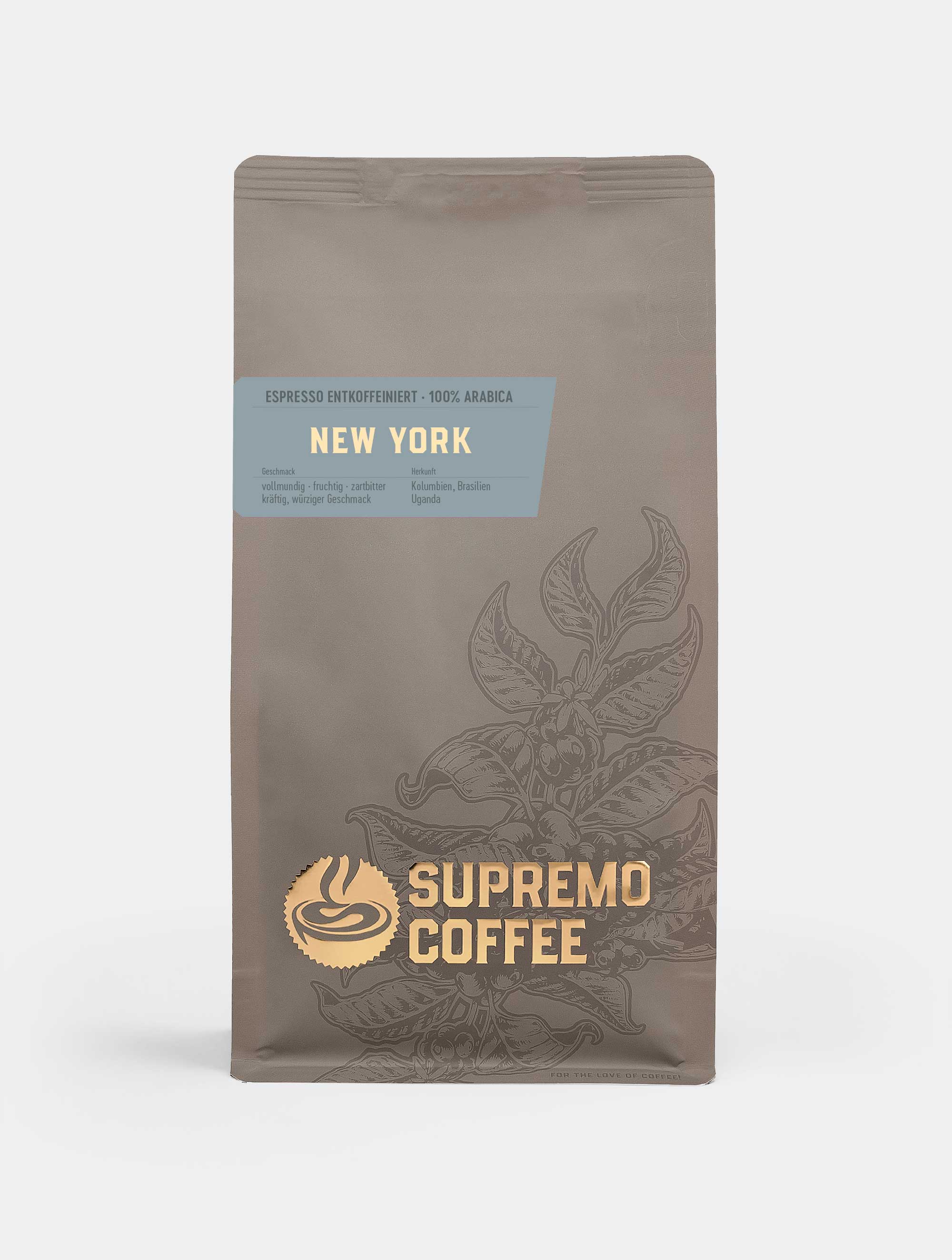 New York (DEKA)
Full-Bodied · Fruity · Semi-Sweet Chocolate · Strong · Intense
---
Facts
| | |
| --- | --- |
| Blend | 100% Arabica |
| Country | Colombia · Brazil · Uganda |
Suitable For
Espresso Machine | Stovetop | Fully Automatic Coffee Maker
Recepe for Double Espresso
Dose
Yield
Time

18 – 19 g
45 – 50 g
26 – 29 s
Farm History

Decaf is for true coffee Lovers!

That's why we want decaffeinated coffees that are gently processed and maintain their flavourintegrity. That's why we only source coffees decaffeinated with the Carbon Dioxide Process. Not only does this method achieve what we want, it is also less wasteful because the extracted caffeine can be collected for the medical sector, for example for use in caffeine tablets.

At very high pressure, water soaked (green) beans are exposed to (liquid) carbon dioxide. The CO2 is pressed into the beans and dissolves and draws the caffeine out of the beans. The process is repeated until the caffeine content of the beans is less than 0.1%.
Preparation Espresso

There are many different recipes that lead to an excellent cup of espresso. This example should serve as a basic recipe and can be changed and adapted according to your wishes and willingness to experiment. For each espresso of our line-up we provide a recipe that works well for us.

Preparation in a portafilter (general rules of thumb)

| | |
| --- | --- |
| Water temperature | 90-96 °C |
| Brewing ratio | 1:2,8 |
| Dose | 18 g |
| Yield | 50 g |
| Time | 25-30 s |

Step by step instructions

Take the portafilter out of your brew group and rinse the group briefly.
Place your clean and dry portafilter on a scale and tare it.
Grind the desired amount of coffee (dose) into your portafilter.
Distribute the ground coffee evenly in the sieve, you can use your finger here or a distributor.
When tamping, it is important to apply pressure vertically to the coffee to ensure even compaction. It is also important to apply pressure only once to avoid channeling.
Remove any coffee residue from the edge of the screen.
Start your shot as soon as you place the portafilter in the group.
Stop your shot when your target yield is reached.
When there's no more coffees to make, empty, clean and dry your portafilter, flush the group and place the portafilter back into the group to ensure it stays hot.

Troubleshoot

Problem
Possible reasons
Solution
Espresso tastes bitter

Grind too fine
Over dosed
Tamping pressure too high


→ results in long shot time

Coarser grind
Reduce dose
'normal' tamping pressure


→ results in faster shot time

Espresso tastes sour
Grind too coarse
Under dosed
Forgot to tamp

→ results in shorter shot time
Finer grind
Increase dose
Tamp

→ results in longer shot time
Espresso is too strong
Over dosed
Too little water
Decrease dose
Increase amount of water
Espresso is too mild/weak
Under dosed
Too much water
Increase dose
Decrease amount of water
Family Project Supremo

Our quality standards

We are convinced that no machine can replace a traditional roasting start and a good roasting master. At Supremo, coffee is not industrially produced - because Supremo is a traditional family coffee roaster. Day after day we work hard together to produce the best coffee and to inspire our customers for true coffee enjoyment! We attach great importance to first-class and always checked manual work.

The roasting craft

We roast in several small, traditional cast-iron roasting drums. We take our time until the coffee is really well roasted - each roasting batch separately. Due to the slow roasting, the coffee tastes strong and is particularly easy on the stomach and digestible. Insiders call this "Cast Iron Slow Roast". We call it: "Good things take time". Because if you roast too hot and too fast, you get beans that are brown on the outside - but don't reveal much of the magic inside. But this is exactly what we want to get out of the beans. After roasting, we do not rub the beans with water. We cool them with air and thus give them the opportunity to intensify the roasting aroma. Best craftsmanship and time - that is our secret!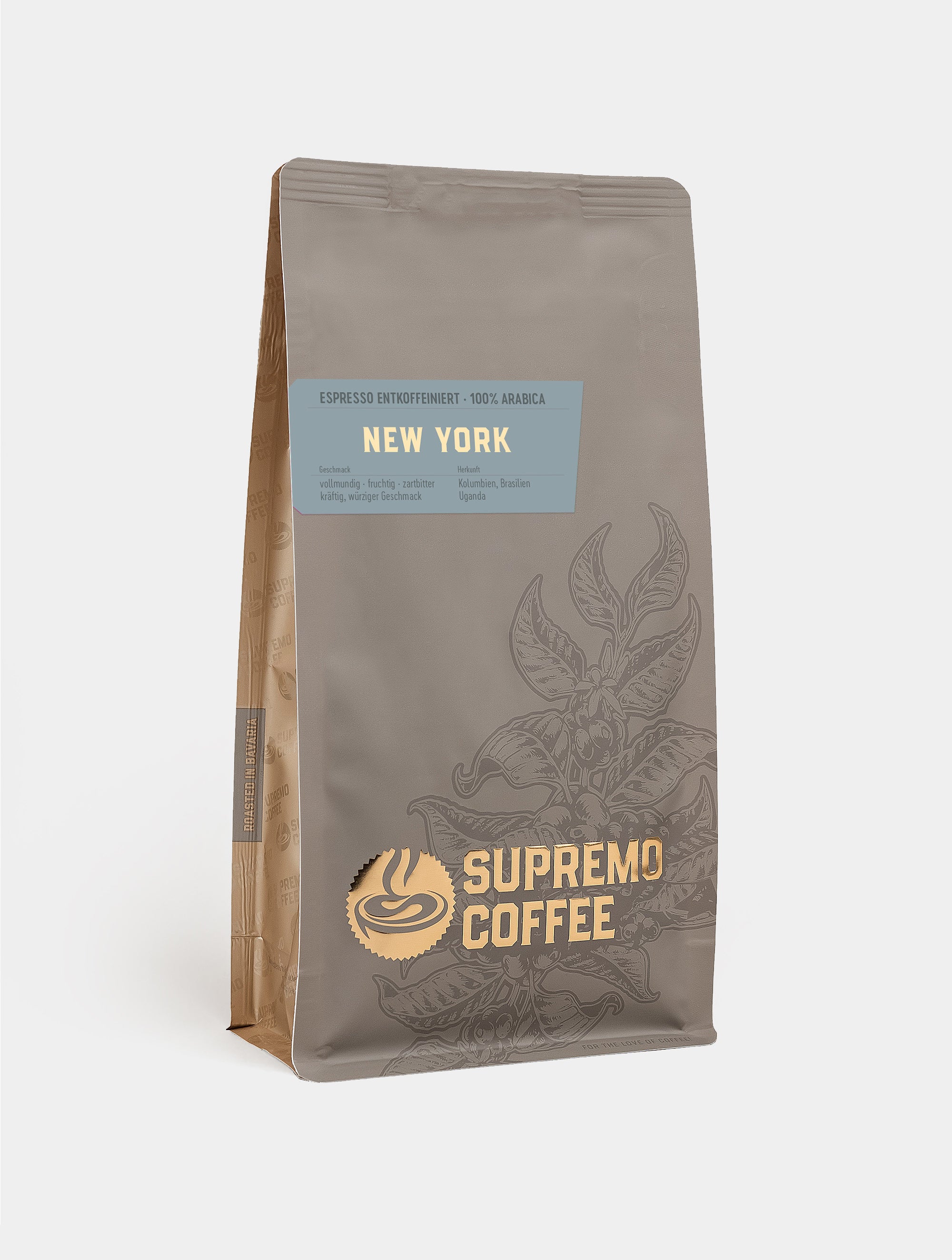 New York (DEKA)
Sale price

€8,38
Regular price
Choose options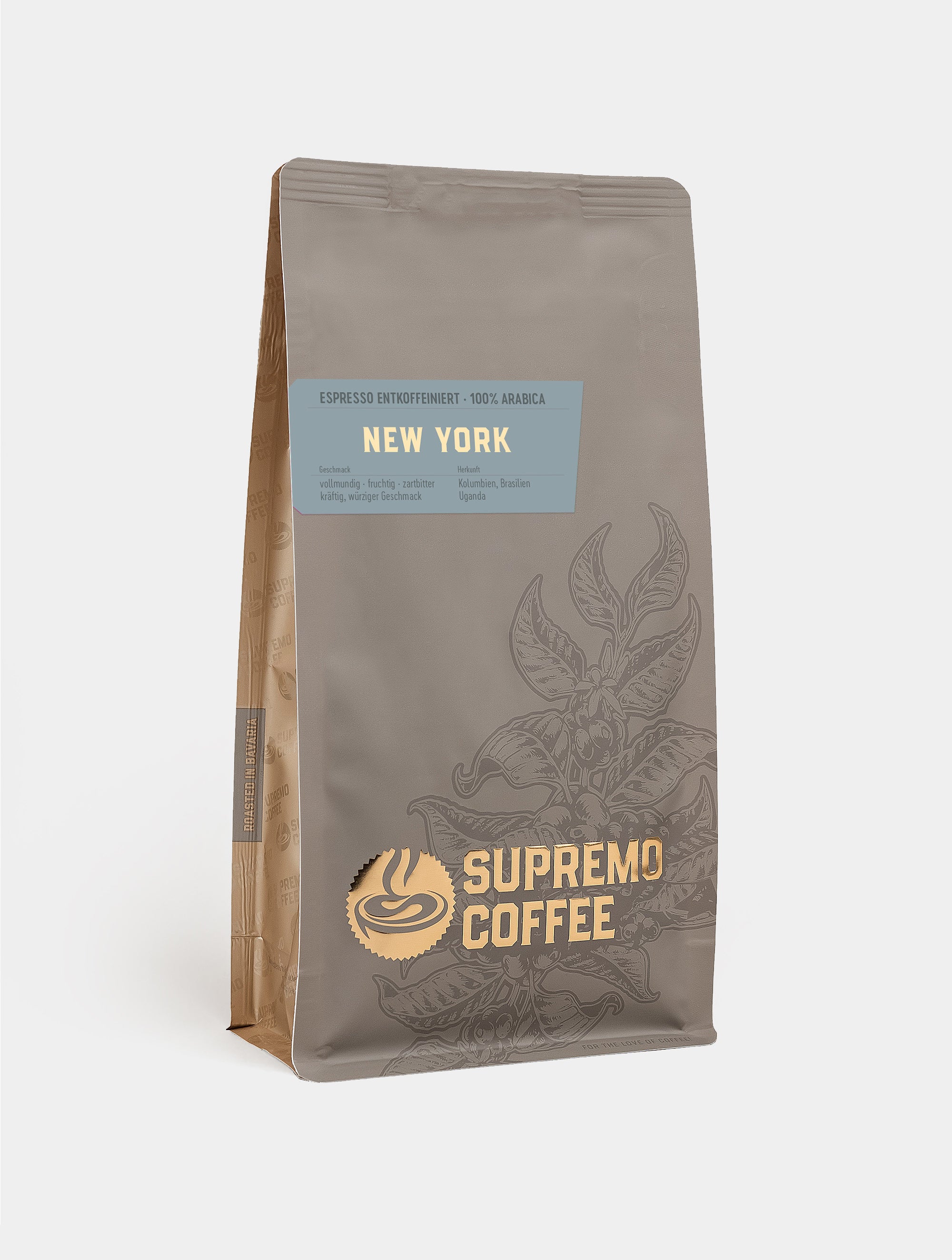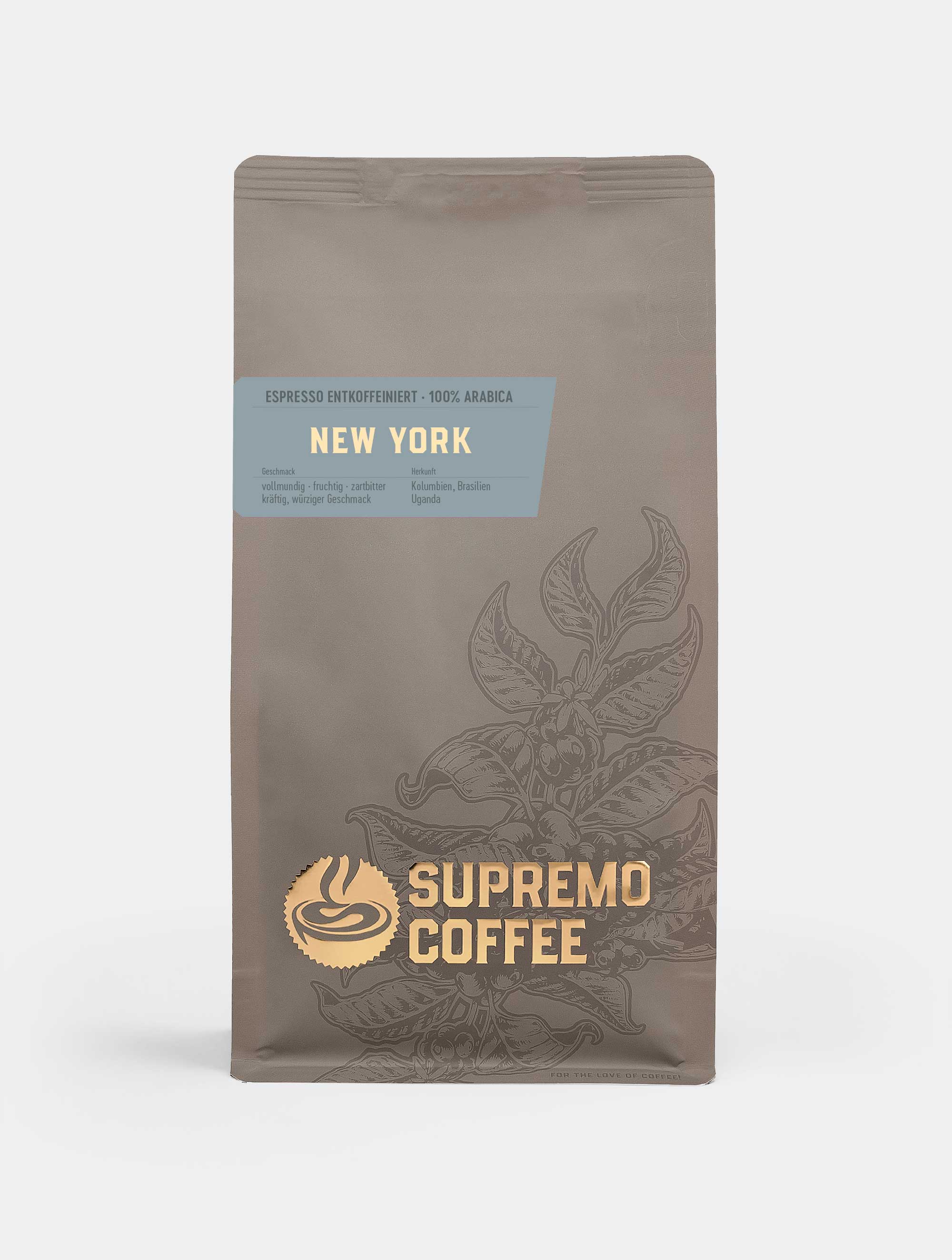 GET THE BEST OUT OF New York (DEKA)
When it comes to coffee, a bit of attention to detail helps somewhat.
With a precise scale and a suitable tamper, the espresso becomes a tad better ...
Browse through our Espresso Section