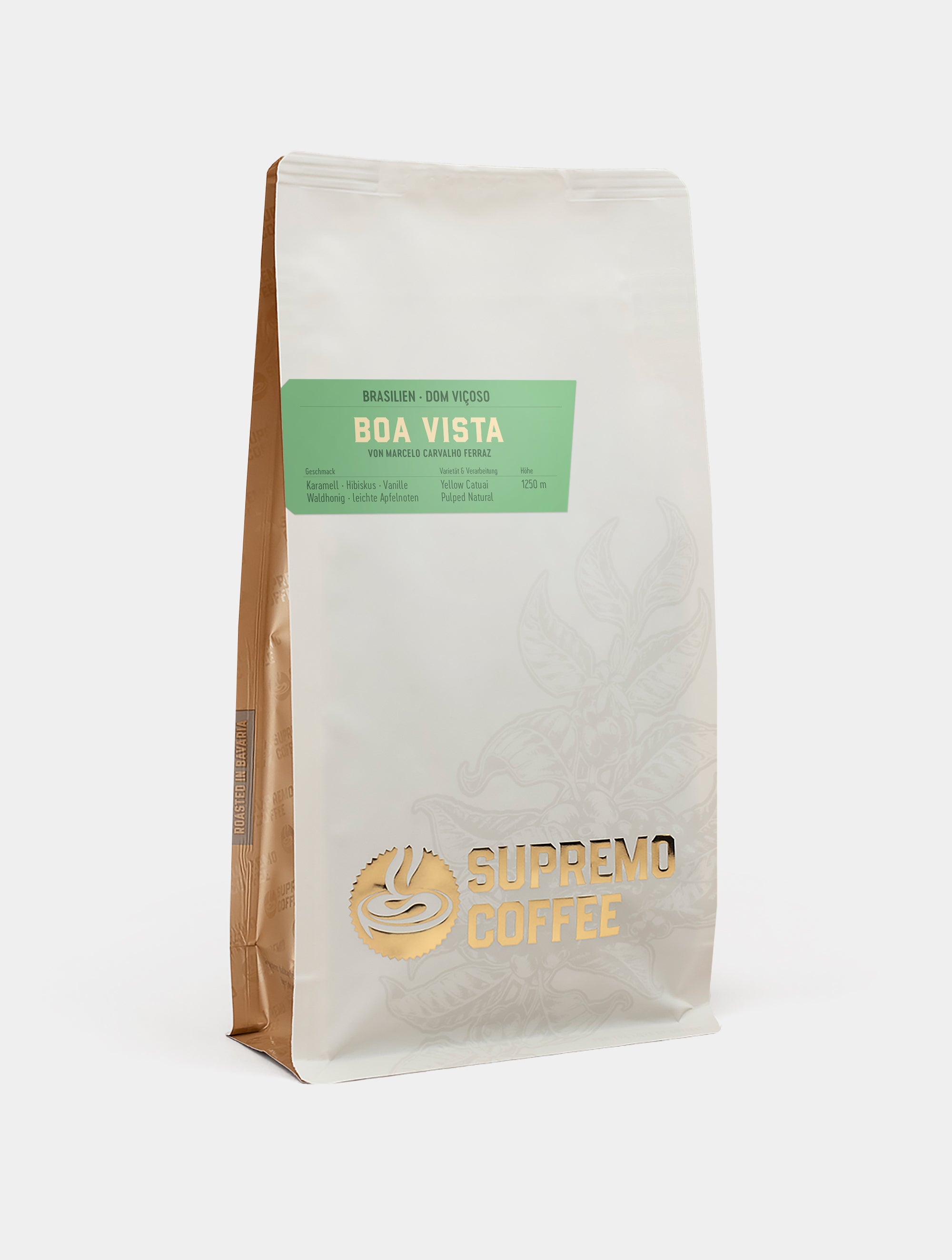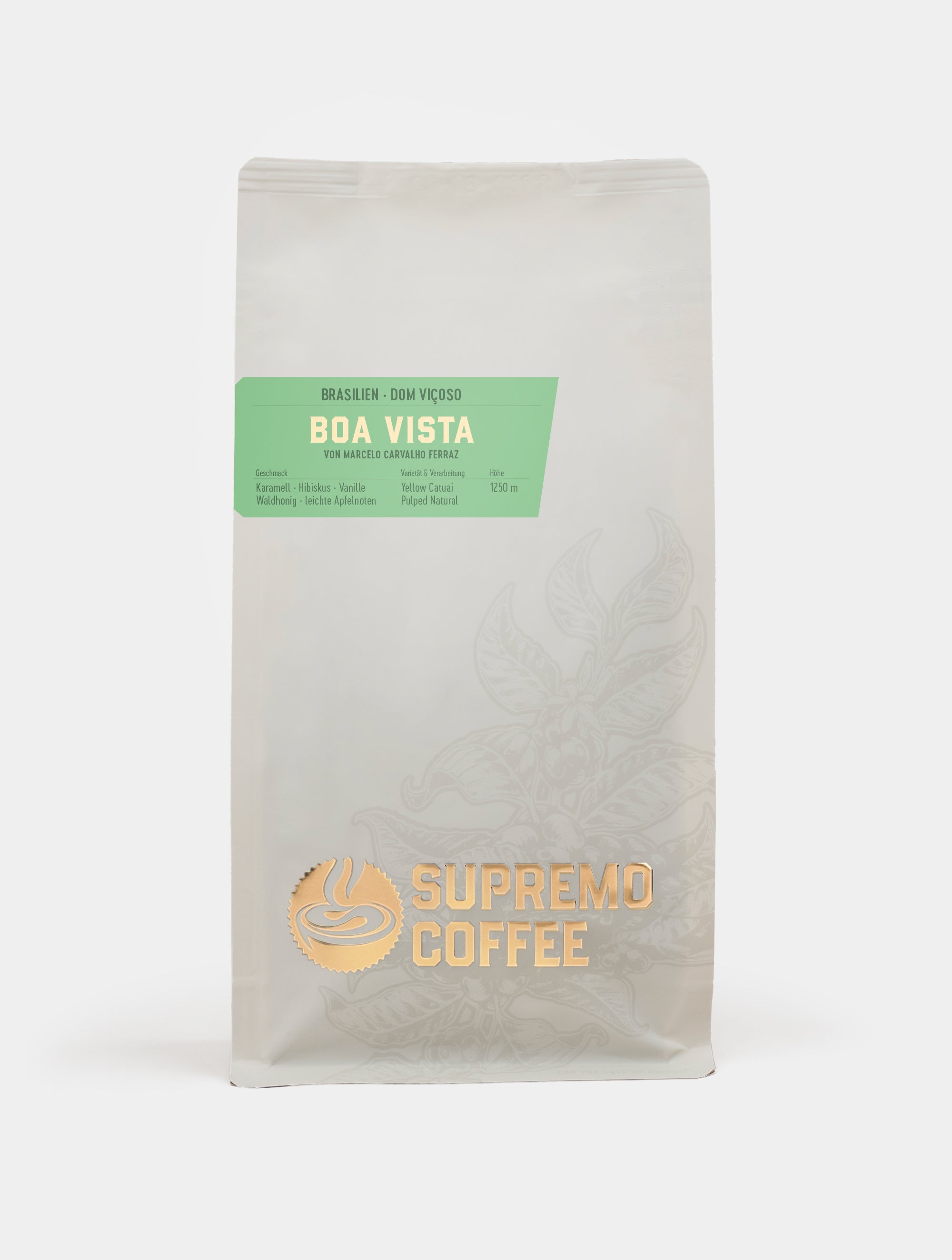 Boa Vista
Caramel · Hibiscus · Rooibos · Vanilla · Dark Honey · Apple
---
Facts
| | |
| --- | --- |
| Country | Brazil |
| Region | Dom Viçoso |
| Farm / Farmer | Marcelo Carvalho Ferraz |
| Variety | Yellow Catuaí |
| Processing | Pulped Natural |
| Altitude | 1250 m |
Suitable For
Filter | AeroPress | French Press
Farm History

Fazenda Boa Vista is located in Dom Viçoso, MG, along the road that connects the county seat to Maria da Fé.

Around the year of 1880, Custódio Teodoro Ribeiro de Carvalho founded Fazenda do Rosário, which comprised a significant part of what was then the Rosário de Dom Viçosodistrict of the city of Silvestre Ferraz, today Carmo de Minas. There Custódio raised dairy cattle and began planting coffee.

With his death in 1952, his daughter, Maria Aparecida Carvalho Ferraz, together with her husband, Dr. Pedro Carlos Junqueira Ferraz, inherited the highest part of the farm, which was called "Boa Vista," because of its panoramic view, reaching the city of São Lourenço and the mountains of Caxambu, Baependi, Cruzília and Aiuruoca.

Coffee production on this new property began in 1975 with the varieties Catuaí and Mundo Novo. In 1986, the couple split the Boa Vista farm among their children. Today, coffee production is handled by brothers Lívio César, Marcelo and Flávio Carvalho Ferraz, who have been working incessantly to improve the crops of the varieties Bourbon, Catucaí Catuaíand Icatu. By using contemporary, sustainable techniques, modernizing installations and machinery and training workers, the quality of the Coffea arabica beans has been improving each year.

In addition to cultivation and bean processing techniques, Fazenda Boa Vista relies on excellent lands for its coffee, as well as an average elevation of 1200 m, factors that contribute to excellence of the drink in its final preparation. It can be said that we have a true terroir there, that is, the interaction of land and climate with human skills.

As part of the program to improve the farm, the new head office was inaugurated in 2011, as an architectonic project of one of the partners himself, architect Marcelo Carvalho Ferraz, of the firm Brasil Arquitetura, headquartered in São Paulo. "Casa Dom Viçoso" won the award "Best of Architecture 2012 – country house category" and was widely publicized in specialized magazines.

As for environmental protection activities, as well as the preservation of springs and the expansion of Atlantic Forest vegetation on the bands of the stream that runs through the lands of the farm, a preserve of fruit plants native to Brazil, the majority of which are very rare and even threatened by extinction, is being planted. The more than two-hundred botanical species are all duly classified and catalogued to, in the near future, lend themselves to scientific research and culinary use.
Preparation Filter Coffee

There are many different recipes that lead to an excellent cup of coffee, the following example should serve as a basic recipe and can be changed and adapted according to your wishes and willingness to experiment. With this recipe you will brew about 270 ml of coffee, that is one cup, or two cups.

Here is a small guide:

| | | |
| --- | --- | --- |
| | V60 | CHEMEX |
| Water temperature | 90 – 96 °C | 90 – 96 °C |
| Brewing ratio | 1:15 | 1:15 |
| Dose | 18 g | 18 g |
| Amount of water | 300 g | 300 g |
| Grind | Medium 20 – 30 Clicks on the Comandante | Medium-coarse 24 – 35 Clicks on the Comandante |

Step by step

Step 1 Preparation:

Grind 18 g of coffee
Rinse the filter paper to get rid of papery flavor and preheat the brewer.

Step 2 Blooming:

Pour in 18 g of coffee.
Start timer.
With approx. 40 g water, wet all coffee evenly and quickly.

Blooming prepares the coffee for the coming extraction.

Step 3 Intervals:

Use slow circular motions going inward and back outward in spirals for each pour

00:30 min to 120 g
00:50 min to 180 g
01:15 min to 240 g
01:40 min to 300 g

Finally, wait until the coffee has finished brewing and enjoy!
Family Project SUPREMO

Our quality standards

We are convinced that no machine can replace a traditional roasting start and a good roasting master. At Supremo, coffee is not industrially produced - because Supremo is a traditional family coffee roaster. Day after day we work hard together to produce the best coffee and to inspire our customers for true coffee enjoyment! We attach great importance to first-class and always checked manual work.

The roasting craft

We roast in several small, traditional cast-iron roasting drums. We take our time until the coffee is really well roasted - each roasting batch separately. Due to the slow roasting, the coffee tastes strong and is particularly easy on the stomach and digestible. Insiders call this "Cast Iron Slow Roast". We call it: "Good things take time". Because if you roast too hot and too fast, you get beans that are brown on the outside - but don't reveal much of the magic inside. But this is exactly what we want to get out of the beans. After roasting, we do not rub the beans with water. We cool them with air and thus give them the opportunity to intensify the roasting aroma. Best craftsmanship and time - that is our secret!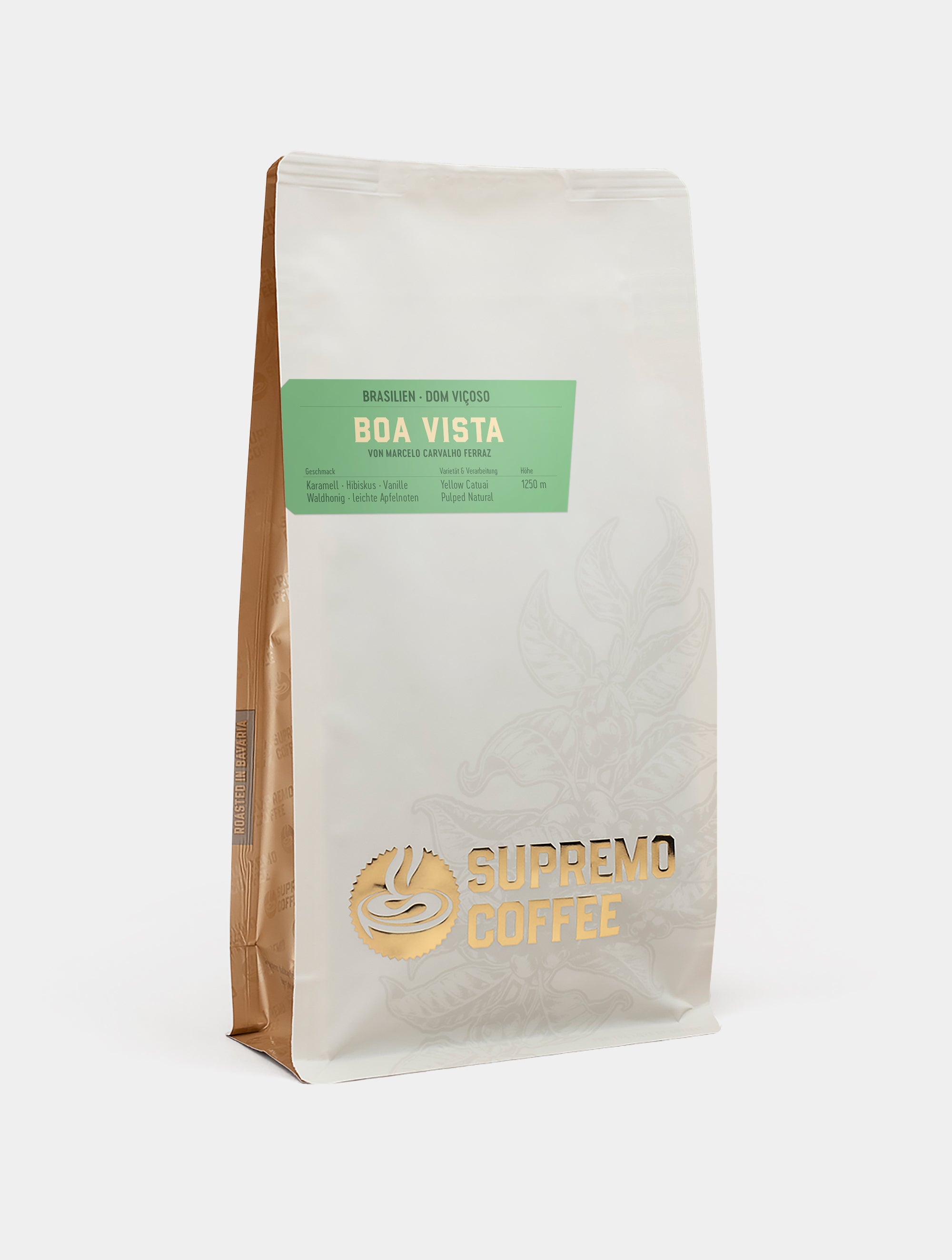 Boa Vista
Sale price

€9,23
Regular price
Choose options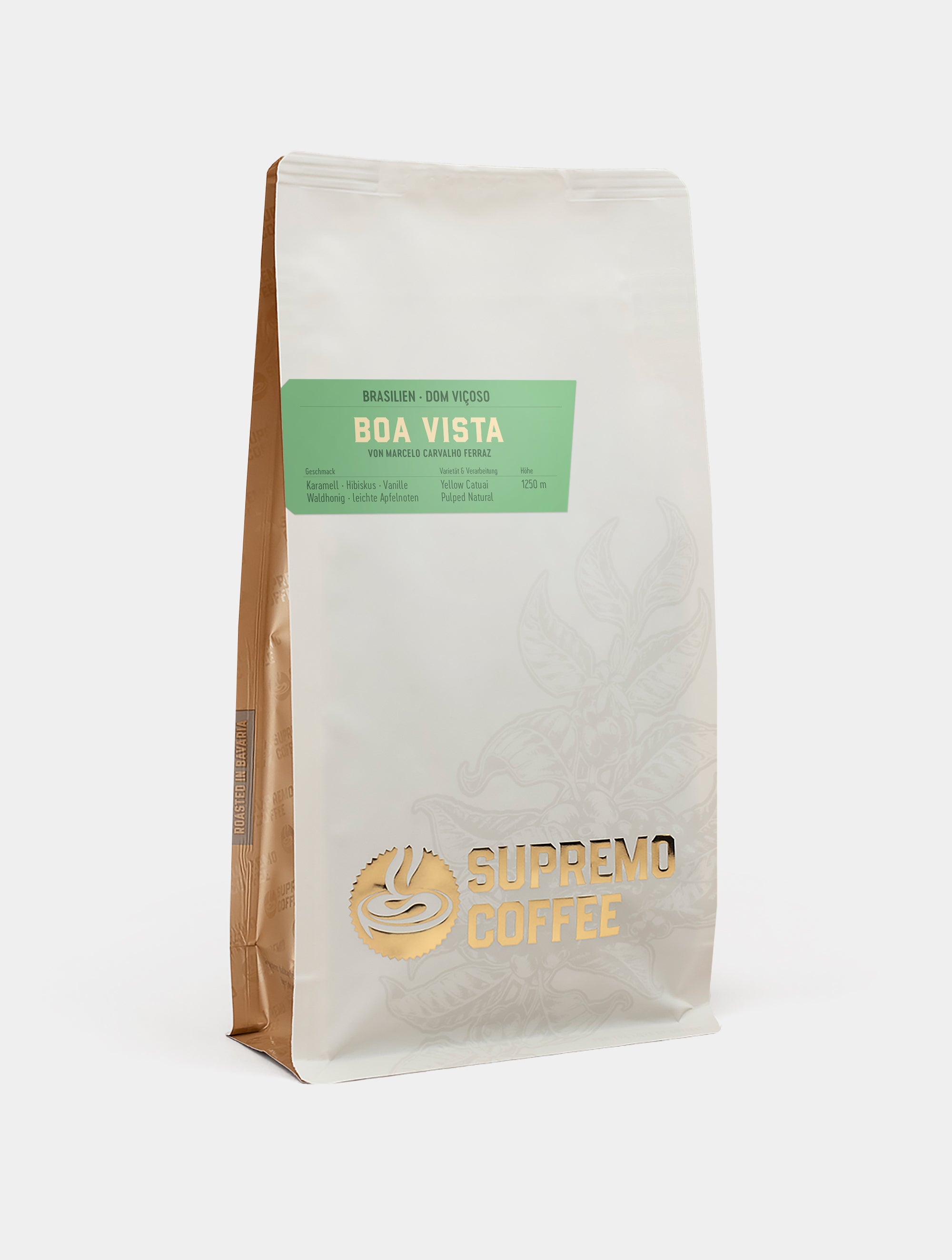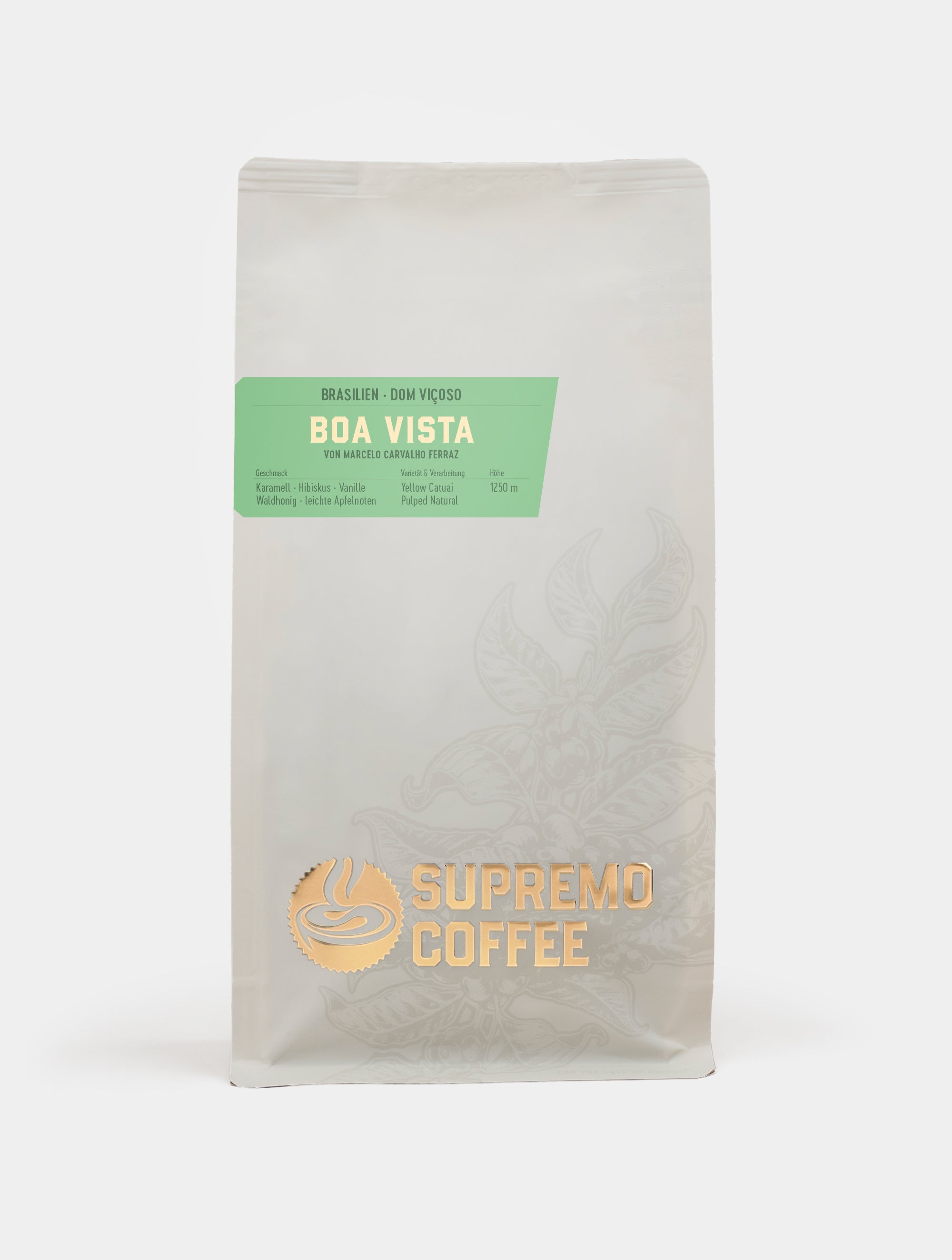 Freshly ground tastes better!
Get the best our of Boa Vista. The Comandante® delivers precise grinding results. From espresso to French Press, everything is possible.
Upgrade Your Coffee Moments